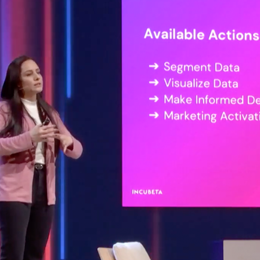 Download | Slides
Preparing Data for a Leaner & Personalized Digital Experience
What you'll learn
Learn how to prepare your data and create solutions designed to drive personalized opportunities across creative - and campaign activation.
Plus...
The next steps you need to take to be more customer-centric?
Why your company needs to be more data- and customer-centric
Examples of a personalized digital experience

Step 1: prepare your organization

Step 2: prepare your data

Step 3: take action
Watch the video...
Most companies have a CRM system with a ton of data, but most of it is not used. People select data and make business decisions based on assumptions. This siloed approach of data gathering is problematic because the budgets won't be allocated properly. Companies that define datasets, which help to convert people into customers, make unbiased business decisions.
The right scalable technology is needed in order to gather the winning datasets. Start small, but think about what technology helps you centralize all of your personalized touchpoints with the customer. The requirements and scope need to be determined by marketing, sales, and IT. Otherwise, the data lake will become just another form of storage.
Download the Presentation Slides!

Incubeta can help you.

At Incubeta, we go way beyond traditional media, creative ads, and data: Instead of a siloed, disconnected approach, we connect to your business and help you deliver meaningful growth. We are looking forward to getting to know you and your business.